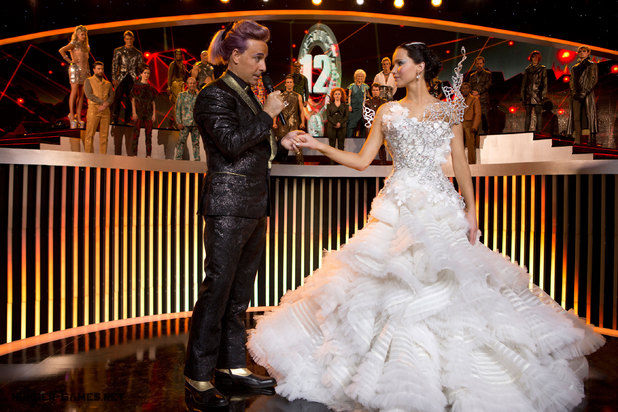 Lionsgate is getting pretty creative with their marketing campaign for THE HUNGER GAMES: CATCHING FIRE. Featured below are two faux posters for Capitol Couture perfume and eyewear, presumably a plot point in the forthcoming sequel.

The Francis Lawrence-directed sequel hits theaters November 22nd.
Synopsis: "The Hunger Games: Catching Fire continues the story of Katniss Everdeen and the fictional, futuristic nation of Panem. Due to the events of the previous novel, a rebellion against the ruling Capitol has begun, and Katniss and fellow tribute Peeta are forced to return to the arena in a special edition of the The Hunger Games."
Jennifer Lawrence, Josh Hutcherson, Liam Hemsworth, Lenny Kravitz, Elizabeth Banks, Stanley Tucci, Donald Sutherland, Toby Jones, Woody Harrelson, Jena Malone, Philip Seymour Hoffman, Lynn Cohen, Patrick St. Esprit, Meta Golding, Bruno Gunn, Maria Howell, and Sam Claflin all star.
Filed in: Movies • News
Tagged with: Bruno Gunn • Capitol Couture • Catching Fire • director • Donald Sutherland • Elizabeth Banks • eye wear • faux posters • Francis Lawrence • Jena Malone • Jennifer Lawrence • Josh Hutcherson • Lenny Kravitz • Liam Hemsworth • Lionsgate • Lynn Cohen • Maria Howell • marketing • Meta Golding • movies • News • November 22nd • Patrick St. Esprit • perfume • Philip Seymour Hoffman • release date • Sam Claflin • sequel • Stanley Tucci • The Hunger Games • Toby Jones • Woody Harrelson