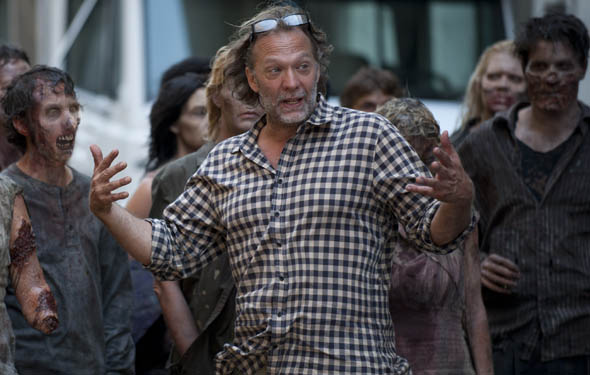 At the "All Hallows' Evil" Halloween marathon running October 30th-31st, EPIX is premiering NIGHTMARE FACTORY, a 90-minute documentary about the acclaimed Oscar-winning Hollywood special effects house KNB, responsible for creating "The Walking Dead" zombies and the makeup effects for close to 1,000 feature films. Even if you're not aware of Greg Nicotero or his KNB company, I guarantee you've seen a film or television series he has worked on.
"Nightmare Factory", directed by Donna Davies (Zombiemania), is the story of how one Pittsburgh boy's fascination with monsters drove him to the very top of the Hollywood food chain. In 1989, Greg Nicotero, much to his parents' chagrin, quit medical school and headed for Hollywood to pursue a dream of making monsters. Together with gore masters Howard Berger and Robert Kurtzman, Nicotero went on to create KNB EFX Group, one of the most prolific makeup effects studios in the world. After twenty years as the "go to guy" for the world's most successful horror/sci-fi films, Greg Nicotero is the first one directors like Quentin Tarantino and Robert Rodriguez call.
Those appearing in "Nightmare Factory" include George A. Romero, John Carpenter, John Landis, Tom Savini, Frank Darabont, Quentin Tarantino, Robert Rodriguez and "The Walking Dead's" Norman Reedus and Laurie Holden.
Greg Nicotero and KNB's backstory is a fantastic idea for a documentary and I will definitely check this out.
You can visit the official website for more info.
Filed in: Movies • News
Tagged with: 31 • All Hallows Evil • details • documentary • Donna Davis • EPIX • Frank Darabont • George A. Romero • Greg Nicotero • Horror • Howard Berger • John Carpenter • John Landis • KNB • Laurie Holden • make up • marathon • monsters • movies • News • Nightmare Factory • Norman Reedus • October 30 • Oscar winning • Pittsburgh • premiere • Quentin Tarantino • Robert Kurtzman • Robert Rodriguez • science fiction • special effects • television • the walking dead • Tom Savini • Zombies